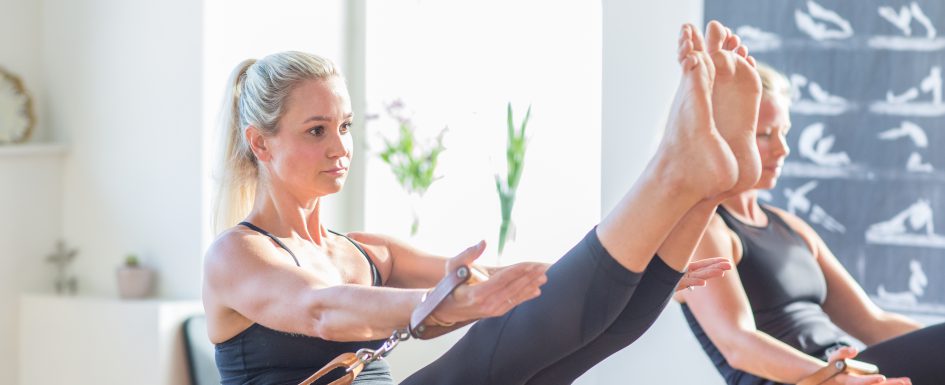 Pilates Apparatus Sessions evolve from Basic, to Intermediate to Advanced. The increase in challenge is based on the number of exercises performed and the flow at which the exercises are completed. For all Apparatus sessions:
Registration is required; f

ull payment is due at first session.

Session length is 50 minutes

Any cancellations must be at least 24 hours prior or the session fee will be applied.

Pilates Reformer: Individual Session – $30.00. 6 Sessions – $155.00.
Pilates Tower: Individual Session – $25.00. 6 Sessions – $140.00.
Pilates Reformer – basic, intermediate and advanced
Basic Reformer – 

Pilates students learn the basic 10 series of exercises. Springs and straps provide resistance and provide a frame of reference for body awareness.

Intermediate Reformer

– Building on basic reformer, Pilates students increase the number of exercises and the type of exercises, such as moving into extension exercises and a greater number of exercises for balance.

Advanced Reformer

– Expanding on intermediate, Pilates students increase the number of exercise options to 45, and they work to increase flow, balance and flexibility. Advanced reformer is is much more demanding.
Pilates Tower – intermediate and advanced
Prior to participating in a Pilates Tower class, a minimum of 5 private Pilates sessions or permission from Tünde is required. A full-body workout on the Pilates Tower is designed to lengthen, strengthen and align the body with power, precision and flow. Pilates Tower classes are designed to match clients as closely as possible in their level of training. Tower workouts can be modified and varied to suit each students' needs.
2017-01-16